I am a HUGE gamer. I love video games. Normally I just play RPG's like Final Fantasy, Oblivion (soon to be Skyrim), Fallout, ect. Or I get sucked into simple & fun puzzle like games like Little Big Planet or any Lego game ever created. But last night my friend calls me up (she has the Playstation Move) and asks if I want to come over and Zumba. I've only ever heard of Zumba from some of my friend's Facebook posts which normally go "I felt ridiculous the whole time but, OMG I LOVE IT". So I said sure, what the hell. I'm always up for trying new things.
And I felt ridiculous, but I LOVE IT!!! It so much fun. It had a multi-player mode so my friend and I played that version on a beginner for 20 minutes. I don't think I've sweat that hard in any 20 minute workout before while enjoying it! You have this belt thing that you wear and the controller fits in a pocket on the side.
This is nice so you don't have to worry about holding the controller the whole time. The belt does move around a bit while zumba-ing, but all in all it does the trick. When you play in multi-player you are both doing the moves at the same time. you each have your own little zumba person on the screen to follow. When you are doing good at it, your person lights up green. When you are doing really good you even get back up dancers.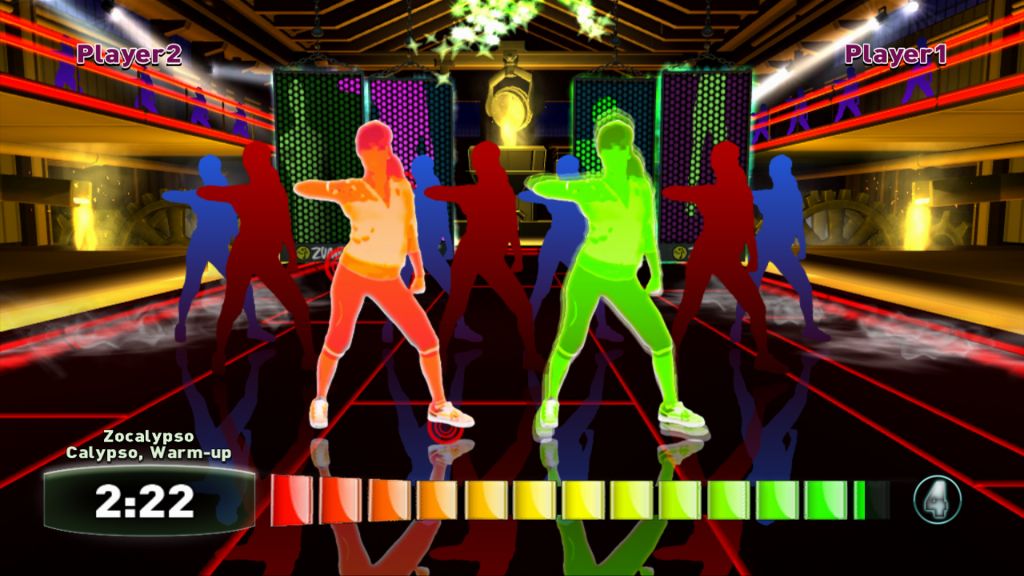 The session we did went for 20 minutes. This 20 minute session was broken into 4 dances, each 4 minutes long. And the best part? After you are done with the 20 minute session you get to cool down... with belly dancing! Seriously had a great time playing it and i would play it again in a heart beat. in fact, I told my friend to call when ever she needs a zumba partner!